Afrin After the Turkish Invasion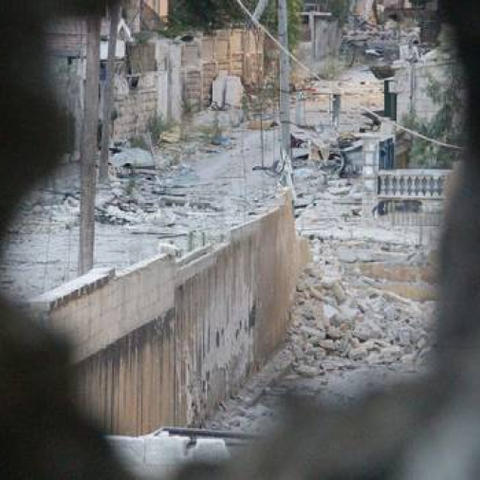 It was just after 12:30 on 11 March 2018 when Muhammad Billo, a resident of the northern Syrian city of Afrin, sent a message to his wife over WhatsApp: "Pack, we are fleeing the city." Before that day, the 40-year old journalist had never entertained the idea of fleeing. 
On 20 January 2018, Turkish armed forces launched a military assault on the PYD (the Kurdish Democratic Union Party) in Billo's hometown, Afrin. Turkish Prime Minister Binali Yıldırım said that the goal of the operation – dubbed Operation Olive Branch – was "to eliminate the terrorists completely" and for the people of Afrin to be "freed from oppression and persecution of these terrorists".
Turkey was not alone in this fight. The Free Syrian Army, originally formed in 2012 to fight Assad's army, joined Turkey and served as front-line forces under the cover of Turkish air support.  Afrin was placed under constant bombardment from both land and air. The UN High Commissioner for Human Rights reported that Operation Olive Branch "put hundreds of thousands of civilians at risk." 
"For two months, we survived the siege and constant shelling from the Turkish side. I believed the city would fight back and that the Turkish army would never enter," Muhammad remembers.  But when the news arrived that the Turkish army was only two kilometers from the city, he was terrified. Not only did he not know what to expect from these "liberating" forces, he was scared because he was a prominent source for those keeping up-to-date on the ongoing battle for Afrin. He had been quoted frequently and appeared on local news channels to speak about recent developments in the city. He largely focused on atrocities, reported casualties figures, and detailed the kinds of human rights violations that Turkish state media were desperately trying to deny.
He had no other choice but to escape.
Within hours, Muhammad, his wife, and their 8-year-old son were escaping through Jabal Al-Ahlam, the last remaining route from Afrin to the northern suburbs of Aleppo. This route had been controlled by the Syrian Democratic Forces and Kurdish forces since 2016. Eventually, Muhammad and his family made it to the Iraqi Kurdish city of Erbil, where he is currently based.
Muhammad was not alone in his escape. According to the UN, more than 183,500 civilians escaped Afrin and resettled in refugee camps throughout the suburbs of Aleppo and northern parts of Syria between 20 January and 24 March. Afrin, a once-vibrant city of 400,000 residents, had had become a ghost town by late March.
On 18 March, less than a week after Muhammad's departure, Turkish state media announced the liberation of Afrin from "Kurdish terrorist groups". Muhammad's hometown is now completely controlled by Arab forces backed by the Turkish Army. From Erbil, he wept as he watched videos of Arab and Turkish fighters looting refrigerators and washing machines, followed by photos of soldiers towing cars and motorcycles. Afrin was drowning in chaos. As more news emerged from the newly "liberated" city, Muhammad knew that fleeing had been the right decision. Three of his colleagues were detained—the photojournalist Dalshan Qarh Chul, Ahmad Shafek, and Abdelamjed Shiekho.
A week later, Muhammad received a text message from his neighbour. A family from Eastern Ghouta, a suburb of Damascus, had broken into his house and was currently living there. Muhammad was furious. "When we fled, we did not have the time to pack or to hide any of our personal belongings. Everything was still there. Family pictures on the wall. Dirty laundry. Even our beds were not made. We took nothing except the clothes we were wearing."
Four days later, Muhammad tried to get ahold of the new squatters. Fortunately, with the help of one of his neighbors, he was able to talk to one of the family members.
 "When I finally spoke to him, I realized that we were both in an identical situation," Muhammad recalled. "We were both fathers who were forced to flee with our families to seek shelter somewhere very far from home. I fled Afrin. They fled Eastern Ghouta. In the end, I found myself debating whether I should be angry at him or feel sorry for him." 
The refugees who took Muhammad's house were among the 60,000 Syrians transferred in green buses from Eastern Ghouta to rebel-held northwestern Syria as a part of a deal between government forces and the rebels back in March. Although the final destination of these buses was almost 100 miles away from Afrin – an area called point zero, in the suburbs of Hama – thousands of those displaced ended up going to Afrin. Many took advantage of the chaos and the empty houses  civilians had left behind.
Many others went to Afrin, but ultimately returned. One example is Majd, a 25-year-old from Eastern Ghouta who was evacuated with his mother on March 27. He recalled:
"In Idlib, where we were first resettled, every three families were put in one house. The villages were packed, and shelled daily. Then, through word of mouth, we started to hear about Afrin, where there were free and empty houses, no daily bombardment, and were welcoming brigades. (…) I went there to see whether this was true. I could not deny this truth, but it was extremely disturbing. With the help of soldiers, we walked into dozens of houses. They had been looted and turned upside down. Even mattresses and pillows were stabbed, with the inner foam lying out. Closets and kitchen cabinets were emptied onto the floor. The floor itself was covered with clothes and broken glass—so much so that you couldn't even see it. It was as if these soldiers were looking for something in particular, but all you could see was personal items. (…) I was afraid of asking questions. Although I am against the Syrian government, what I saw and heard made me ashamed of the rebels. Ashamed that I might be taking someone's house because the government and its thugs took mine. I am not a geopolitics expert, but I didn't need to be one in order see what Turkey was doing. They were attempting demographic change by hiding behind Syrian Arab soldiers, who broke into houses that belonged to Kurds and encouraged displaced Arabs to take over. They broke the door and told us everything is fine and that we could stay here. But it's not. These are not their houses. What right do they have to break the houses and install new families?"
The looting and seizing of houses is not the only problem facing the residents of Afrin. Humiliation and harassment by Turkish-backed Arab soldiers became an everyday occurrence. In a recent video  circulated on social media, an elderly woman is seen looking at the camera, addressing her son in Kurdish, asking him to send her money after Arab brigades stole her electric water pump.
Another picture showed banners installed by rebel brigades in the streets of Afrin encouraging women to not only wear the burqa, but also advising them on how to wear it and making sure it is not transparent (Similar banners are often seen in Al Qaeda–and ISIS-held territories). Another video, however, showed demonstrators protesting atrocities committed by Arab brigades against Afrin civilians.
According to Shero Alo, a Kurdish journalist and founder of the Afrin Now Facebook page – which, according to locals, is one of the most accurate news sources about Afrin – people are humiliated and harassed on a regular basis; some brigade members wait outside high schools to cat-call girls.
"These reported atrocities against Kurds are only a small fragment of what is happening in Afrin. It is obvious that these brigades are doing whatever they can to push out the Kurds who did not flee during Operation Olive Branch," Shero told me.
According to another source based in Afrin, almost every brigade counts one Turkish soldier serving as a supervisor. These brigades cannot commit any of these violations without the approval of the Turkish army, or at least without them turning a blind eye to the violations. "There is no way these atrocities would have taken place if the Turkish army did not give them the green light," the resident explained in a WhatsApp message, requesting that he not be named.
"But what terrifies me the most is the arbitrary detentions. They have been detaining civilians for questioning. People disappear from the streets and their houses in the middle of the night. For these brigades, every Kurdish civilian is a YPG affiliate until he proves the opposite," he told.
Such stories are completely absent from coverage by Turkish state media. Instead, on state-run TRT, for example, one comes across titles such as "Sport and stability return to Afrin." This article in particular backs up its claims with footage of a football match between two local groups and a quote from one of the players that "football was not possible when the YPG was controlling the city." In short, if you rely on Turkish state media for coverage on Afrin, you would be led to assume that the situation is safe and could not be any better. The reality is far different: Afrin today is facing extreme demographic changes and various horrifying human rights violations, which continue to be documented and condemned by human rights organizations.
On 2 July, Turkish foreign ministry spokesperson Hami Aksoy stated in a press conference in Afrin on TRT television that its residents established their own municipal parliament, incorporating Kurds, Turks and Arabs. He added that security and military forces were slowly withdrawing from the city, and that they are "'leaving Afrin to the people of Afrin". A statement which left Billo, the exiled Afrin native, outraged. "Leaving Afrin to what people? The criminal brigades? People they installed in our houses?  These are not Afrin people."
"I believe that Afrin will, eventually, return to its people," he said. "But for now, we can't do anything other than expose these brigades' atrocities and hope that, one day, justice will take place and our confiscated town will be ours again."