Syria's Problematic "Reconstruction"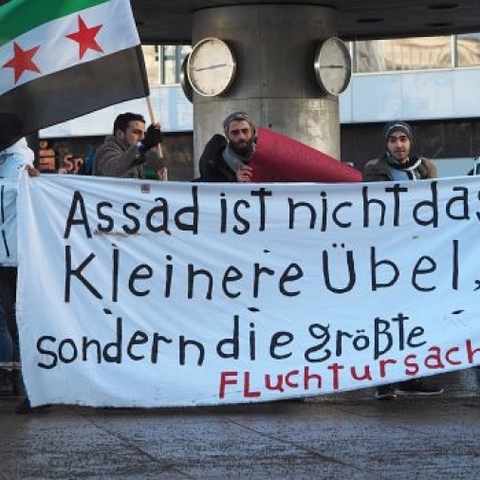 The plans have already been made. The dilemma: supporting reconstruction in Syria would also support the Assad regime.
March 2019 will mark the eighth anniversary of the start of the Syrian revolution, and it now looks as though the Assad regime will emerge victorious from the war that has consumed the country over this time. These developments have led to a discussion in recent months about how to rebuild the country. It is a discussion that has not least been strongly pursued by the Syrian regime itself and its main ally, Russia. The war in and around Syria is, however, far from over. It may, in fact, be entering a new phase of conflict over direct and indirect forms of influence set against a backdrop of shifting allegiances. "Reconstruction" therefore means dealing not only with the large-scale destruction of buildings and infrastructure and the substantial funds required to rebuild, but also—and more crucially—the political, economic and social impacts the process of rebuilding will have on post-war Syria.
It comes as no surprise that the Assad regime has repeatedly stated that the bulk of its reconstruction funds should come from its allies. It is not only Russia's military that has played a key role in ensuring the survival of Assad and his government; Russia's economic importance for the country has also grown significantly in recent years. As far back as October 2015, a Russian delegation visited Damascus resulting in the signing of contracts worth a total of at least 850 million euro. One year later, in November 2016 during the visit of another Russian delegation, Syrian foreign minister Walid al-Moualem announced that Russia would be given priority for contracts to rebuild Syria.
In January 2018 Moscow signed a bilateral framework agreement with Damascus granting Russia exclusive rights to extract oil and gas in territory under the direct control of the Assad regime. This agreement was followed by an announcement by the Russian energy minister, Alexander Novak, that Moscow had signed a "road map" with Syria for "the restoration of oil fields and the development of new deposits". Then, in October 2018, it was announced that the two sides would be working together to improve Syria's oil production facilities.
In addition to investing in Syria's energy sector, Russian companies have established connections in other sectors of the Syrian economy with the aim of ensuring that Damascus awards strategically important contracts to Russian businesses. In March 2018, Russian firms secured preliminary agreements on 26 projects, including electricity generation in Homs, construction of a railway line connecting Damascus's international airport to the city centre, as well as a series of industrial complexes that will, according to Russia, play a crucial role in Syria's future development.
Iran is also looking to cash in on Syria's reconstruction, especially as its military intervention to aid President Assad has been a very costly endeavour. Estimates vary considerably on just how much Iran has ploughed into military and economic support for the Assad regime, but most put the figure at somewhere between 30 and 105 billion US dollars.
However, Iran's involvement in Syria extends beyond a conventional economic and military presence; indeed, the Islamic Republic is pursuing a more lasting influence over Syrian society. Here a key role is played by Iran's own financial and ideological institutions. Together with roughly a dozen other organizations that are also allied with Iran, the Islamic charity foundation Jihad al-Bina, for example, which was involved in financing and organising the reconstruction of southern Beirut after the 2006 Lebanon War, is already taking part in large-scale infrastructure projects in Syria. In Aleppo, Homs, and other cities the foundation is helping rebuild schools, roads, and hospitals, as well as supporting families of the Iran-backed Syrian militia.
It remains to be seen how far other regional actors will be involved in the reconstruction efforts in Syria. It will also depend heavily on how geopolitical dynamics in the region develop. For example, recent months have seen a rapprochement between Syria and the United Arab Emirates (UAE) as well as Saudi Arabia. This is most likely due to the UAE and Saudi Arabia's desire to rein in Iran's influence.
However, given the sheer scale of the destruction there are doubts that Russian, Iranian, or even Chinese capital will suffice to rebuild the country. Russia and Iran notably have severe economic challenges of their own to contend with. With this in mind, it is hardly surprising that Russia has for some time been trying to convince EU states to invest in Syria's reconstruction. Here the Russian government has been openly playing the refugee card, claiming that the reconstruction of Syria will allow for the return of Syria's many refugees and thus take the wind out of the sails of the racist right in Europe. For its part, the German government is trying to tie investments in Syria to agreements to work towards a political solution. Neither of these strategies has yet borne fruit.
The question of Syria's reconstruction also depends, in no small part, on how capable the Assad regime is of creating stability and an investor-friendly climate in those regions under its control.
Indeed, up until now the regime has used reconstruction as a way to further consolidate its power. Here two decrees issued by President Assad play a pivotal role: under the pretext of laying the groundwork for the country's rebuilding, decrees 66 and 10 actually enable the large-scale repossession of houses and property and, through the expulsion of previous residents and owners, have triggered a widespread process of politically motivated resettlement. Decree 66, passed in 2012, concerns the reconstruction of destroyed parts of the Damascus suburbs. However, the aim is not to resettle the original inhabitants but to create luxury property developments a stone's throw away from the capital. The implementation of decree 66 is bringing about a demographic shift connected with political loyalty to the regime. Consequently, in Damascus suburbs such as Basateen al-Razi – a hub of anti-government protests in 2012 – working-class residents critical of the Assad government are to be replaced by wealthy citizens loyal to the regime. The reconstruction (or rather the destruction and subsequent socio-economic transformation) of Basateen al-Razi is one of Syria's biggest investment projects, involving several hundred million US dollars.
Decree 10 is a law that effectively extends the scope of Decree 66 to the entire country. Enacted in April 2018 after the recapture of Eastern Ghouta, Decree 10 permits certain "redevelopment zones" to be created for the purpose of reconstruction. Within these zones any property, plots, or agricultural land that are not listed on the land registry can be seized.
If the property or plot is not registered, ownership must be proven within a 12-month period by presenting the relevant documents. In practice, Decree 10 is a law that facilitates expropriation; aside from the fact that 70 percent of Syrians no longer hold basic identity documents, for many of them it is no longer possible to register their claim as a return to Syria could lead to imprisonment, forced recruitment, or even death.
Decree 10 has also been designed to politically homogenize the population. Take, for example, the Syrian minister for local administration and the environment, Hussein Makhlouf, who declared that the decree would first be enacted in Baba Amr in Homs, in Harasta in Eastern Ghouta, and in a few informal settlements in Aleppo—all areas that were once opposition strongholds and were recaptured by the regime following long sieges and starvation blockades.
Meanwhile, reconstruction contracts are being awarded to companies and investors who are close to the regime. Here Basateen al-Razi is a blueprint for what the regime has planned for reconstruction projects throughout Syria. The project is run by the Syrian regime with the help of Cham Holdings, an organization founded solely for this purpose and owned by the government in Damascus. Rami Makhlouf, Assad's cousin and one of Syria's richest businessmen, is a majority shareholder in Cham. A close cooperation exists with the Aman Holding Group run by Syrian entrepreneur Samer Foz, whose father was already a close friend of Hafez al-Assad. In August 2017 Aman and the Syrian government announced the creation of the Aman Damascus Joint Stock Company with capital worth 18.9 million US dollars. Before the deal was signed with the Aman Group, Damascus Cham launched a similar joint venture with Zubaidi and Qalei LLC. This corporation is owned by Khaled al-Zubaidi and Nader Qalei, two powerful businessmen from Damascus with close ties to the regime. What is more, Cham has also founded a finance company with a number of Syrian banks, including the Al Baraka Bank, whose CEO is Mohammad Halabi. Halabi was previously deputy CEO of the Syria International Islamic Bank, which was subjected to international sanctions in 2011 and 2012 for its role in assisting arms deals for the Assad regime.
The redevelopment plans for Basateen al-Razi are extensive: according to the Governor of Damascus, all of the old houses in the entire district are to be torn down to build an upmarket residential development called "Marota City". The 2.15-million-square-metre development will comprise 12,000 housing units for an estimated 60,000 residents. There are also plans to build at least three high-rises with 50 floors.
The political, economic, and legal framework of Syria's reconstruction is largely being dictated by the partially overlapping, partially contradictory interests of a regime made even more barbarous by the war, of its military and political allies, and of a capitalist class with close ties to the government. Anyone offering assistance for the reconstruction of Syria thus faces the dilemma of either directly or indirectly supporting the regime. Whether, as has been repeatedly suggested, reconstruction aid tied to certain conditions could be a viable option remains more than uncertain given the stubbornness of the regime and its regained confidence following a string of recent military victories. Other paths to reconstruction could be explored, perhaps in areas that lie outside of the regime's control. However, whatever rebuilding efforts are made here will almost certainly be influenced by the interests of the dominant occupying power (e.g. Turkey). While this may not be promising for the future of Syria, for now, it does at least paint a realistic picture.