Food Sovereignty Now!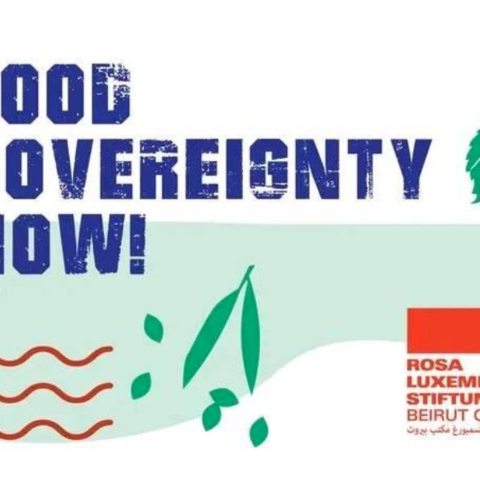 The Rosa Luxemburg Stiftung Beirut office is organizing a week-long tour of cities from September 3rd to September 8th in different areas in Lebanon, featuring film screenings and panel discussions on Food Sovereignty.
Our initiative promises a captivating blend of thought-provoking film screenings and engaging panel discussions, all aimed at fostering a deeper understanding and appreciation for food sovereignty, agroecology, and the activism around these topics, as intricately linked to the political economy of Lebanon & the region. Tackling various corners, these events spotlight the principles of sustainability, equity, and well-being through the lenses of inspiring community-led initiatives and alternative, anti-capitalist analysis of food systems.
At the heart of this exploration lies the unwavering commitment to elevate the voices of small-scale farmers and agricultural laborers, harnessing their collective power to assert their rights. Our concept of sovereignty also extends to actively engage participation of people from all walks of life in deciding crucial resource policies and ethical considerations for the environment. Central to this concept is the reverence for heirloom local seeds and local trade – integral components of the intricate web of agroecology. The events will navigate the importance of preserving the rich biodiversity embedded within these heirloom seeds, celebrating the connections to tradition and heritage they represent. We will discuss local trade and its role in nurturing resilient food systems that honor the symbiotic relationships between producers and consumers. 
Beyond this, "Food Sovereignty Now!" seeks to underscore the significance of access – both to markets and knowledge, highlighting how prevalent the structural and political challenges communities face in their daily lives due to systemically lacking control over their food systems.  We curated a selection of two documentaries, each offering an intimate glimpse into the dynamic world of sustainable agriculture, local food production, and the enduring influence of traditional knowledge. Moreover, these films delve deep into the reverberations of contemporary capitalism on the intricate fabric of our food systems.
Drawing from collaborations between Iraq, Kurdistan, and Lebanon, "Gwez W Nakhl: journey towards food sovereignty" documentary is one of the poignant outcomes of a flourishing network that bridges geographical divides. The second short film focuses on Buzuruna Juzuruna's experience using a farm's agroecology methods to preserve heirloom seeds, challenge monopolies, and advocate for local food sovereignty. 
Events Details:
Details:

3rd Sep/REEF-Kobayat-Silk Factory
5th Sep/Ghaziyeh-Al-Safir Orchard
6th Sep/Saadnayel-Train Station
7th Sep/Beirut-Cinema Royal
8th Sep/REEF-AL Hermel -Al Mountada

All events are Free and open to public